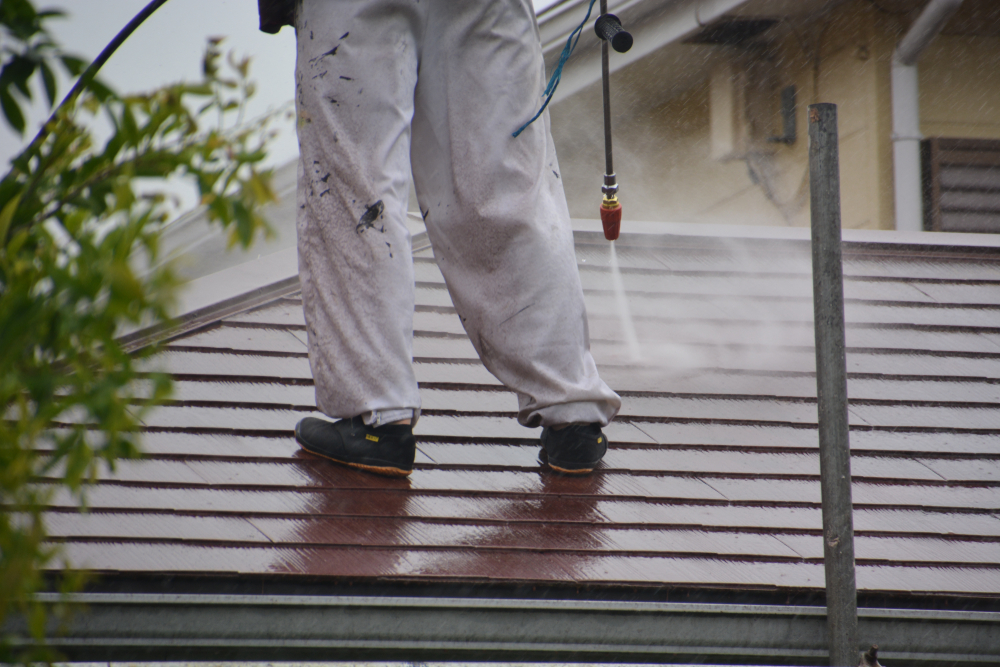 At Village Window Cleaning & Power Washing, we're dedicated to providing you with the true look and feel of clean. One of the most effective ways to increase your curb appeal and achieve a true, vivid clean is with power washing. Whether it's a residential or commercial property, our team can turn your outdoor space from dull and dirty to truly, flawlessly clean.  Essentially, when it comes to any outdoor space, the only way to get a true, vivid clean is with a professional power washing.
No matter the size or scale, our team can work with you on everything from scheduling to estimates in order to fit your needs, your schedule and your budget.
Soft Wash Roof Cleaning
With our soft wash roof cleaning, we'll clean your roof effectively but also safely. Basically, we remove all organic build-up, such as mildew, algae and other stains from your roof. However, our techniques will not just remove the residue, but eliminate the root cause of the buildup. Basically, with our soft wash roof cleaning, we not only clean but sanitize your roof.
The primary cause of roof stains is the bacteria, mold, fungi and other microorganisms that thrive in the warm, moist environment on rooftops. Essentially, our ultimate goal is to eliminate these substances entirely in order to sanitize your roof. As a result, we'll remove all of the dirt and blemishes along with these stain-creating organisms. Using a combination of soft pressure cleaning and sanitizing agents, Village Window Cleaning & Power Washing will utterly transform your roof and make it look brand-new.
Patio Pressure Washing
Patios can become dirty and blemished very easily. Unfortunately, a simple garden hose simply isn't sufficient to properly wash a patio. Naturally, a deep, powerful pressure washing is the only solution to clearing dirt, moss, and other buildup.
With our pressure washing services, our team can transform your patio quickly and safely. No matter the material, we'll calibrate our washing techniques in order to best compliment your patio. As a result, your outdoor space will instantly become clean, inviting and relaxing.
Rust Stain Removal
For many homeowners, rust stains are one of the most frustrating issues to deal with. Unfortunately, the "do-it-yourself" solutions simply don't work. Rust is one of the most notoriously stubborn and difficult stains to remove. And the longer it sits, the more impossible it is to remove.
However, our team utilizes a proven system to identify the source of the problem in order to quickly mitigate it. Rust stain removal is an intricate process. The application of incorrect chemicals or removal agents can make the problem worse. Therefore, if you're experiencing problems with rust stains, it's absolutely best to leave it to a team of professionals. Our team can assess the issue and remove the stains in a quick, safe and efficient way.
Restaurant Sidewalk Cleaning
Few businesses rely on curb appeal in the same way that restaurants do. Without a clean and inviting storefront, you're unlikely to attract clientele. Therefore, one of your most convenient solutions to creating an alluring atmosphere is a deep, thorough sidewalk cleaning.
Never underestimate the power of a clean sidewalk. With Village Window Cleaning & Power Washing's cleaning service, our team can provide your restaurant with a flawless, dazzling frontier. Using a combination of powerful equipment and cleaning solutions, we remove all of the dirt, grime, and organic buildup that's tainting your sidewalk. As a result, your restaurant's curb appeal will skyrocket.